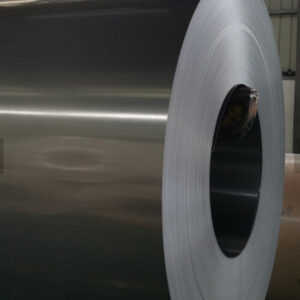 Silicon steel
Electrotechnical steel, also known as silicon steel, is a special steel containing silicon that can exhibit some special magnetic properties, such as creating a hysteresis region, increasing permeability, and reducing core losses, and is a soft magnetic alloy widely used in the field of electrical engineering.
Electrical steel is usually manufactured in cold rolled form and is typically less than 2 millimeters thick. Multiple pieces of electrical steel are often pressed into stacks, commonly known as silicon steel sheets, for use in the cores of stators and rotors in transformers and electric motors. After being pressed into stacks, electrical steel is usually cut and shaped using a dimple die, laser or EDM process.
Classification
Orientation
Silicon steels can be divided into two main categories: oriented and non-oriented. The magnetic properties of oriented silicon steels are strongly directional, with the lowest iron loss values in the rolling direction, the highest permeability and high magnetic susceptibility under certain magnetizing fields. Oriented silicon steel silicon content of about 3%, and requires a low content of oxide inclusions in the steel, at the same time must contain a certain inhibitor (MnS, A1N), because more for the manufacture of transformer cores, so also known as cold-rolled transformer steel.
Non-oriented silicon steel has a very low carbon content, silicon content between 0.8% -4.8%, the addition of silicon can improve the iron resistivity and maximum permeability, reduce the coercivity, core loss (iron loss) and magnetic aging. In the deformation and annealing of the steel plate in the grain was irregular orientation distribution, hot and cold rolled from the thickness of 1mm or less silicon steel sheet.
Usage
According to the use of silicon steel is divided into three categories: hot rolled silicon steel, cold rolled electrical steel and special purpose silicon steel. Cold rolled sheet thickness uniformity, good surface quality, high magnetic, and gradually replace the hot rolled sheet. Low-silicon sheet contains less than 2.8% silicon, it has a certain mechanical strength; high-silicon sheet contains 2.8%-4.8% silicon, it has good magnetic properties, but more brittle.